The world is now on a new craze: the love for AI-based avatar photo and video representation of people. This trend is mostly seen on Instagram as people get different versions of themselves in AI avatars. The appeal of this trend is that the AI avatar representation is usually stylish or artsy and can be customized to different cultures and times. Simultaneously solve the trouble of not wanting to appear in person.
That is why this blog brings you the 12 best AI avatar generators you can find today. Keep reading!
Part 1. Why do you need an AI Avatar?
There are several reasons why you might consider using an AI avatar:
Enhanced Viewing Experience
An AI avatar can provide viewers with a more engaging and interactive experience, making the interaction with AI feel more personable and natural. It adds a visual element that captures attention and creates a sense of connection.
Memorable and Recognizable
A distinct and well-designed AI avatar can leave a lasting impression on users, making the interaction more memorable. It can also help users quickly recognize and differentiate the AI system from others, promoting brand recognition and recall.
Part 2. What is an AI Avatar Generator?
An AI avatar generator is a tool or software application employing artificial intelligence techniques to create or generate digital avatars automatically. It often uses machine learning algorithms, such as generative adversarial networks (GANs) or variational autoencoders (VAEs). These algorithms learn from large datasets of existing images to generate new and unique avatar images.
The generator focuses on creating realistic and diverse facial features for the avatars. This includes eyes, nose, mouth, eyebrows, and hair, with different shapes, sizes, and colors.
Part 3. Top-Rated AI Avatar Generators [Worth a Try]
DemoCreator AI Avatar maker is a free AI avatar generator that helps you share your ideas with the world through its demo tool. With this tool, you can generate AI avatars using your image as a base.
Accessing the tool is incredibly easy. All you need is a device with internet access and a stable connection to log onto the website.
Powered by cutting-edge AI technology, it accurately tracks real-time movements, facial expressions, and mannerisms in your video broadcasts.
Enjoy an array of incredible customization options that provide a personal touch to your AI avatar.
Integration with the VRoid avatar platform enables users to obtain a 3D model or version of their avatars for a truly immersive experience.
Great News: the AI avatar maker for profile pictures will come soon!
How to create a custom AI avatar easily and quickly?
Create an AI Avatar version of yourself on Democreator AI Avatar creator using these steps:
Step1

Launch Wondershare Democreator and choose a presentation mode.

Download and install the AI avatar generator from its official site and select the Video Presentation Mode in the homepage. You can easily capture your screen, record your meeting, or make PowerPoint presentations in AI Avatar mode.
Step2

Import PPT and choose an Avatar.

Choose a Avatar of your preference from the options provided by DemoCreator, or upload a model from your device storage. Finally, you can import the PPT file for a PowerPoint presentation from your device.

Step3

Enable the Webcam.

Follow the indicator on your screen to position yourself in a central location close enough for DemoCreator's AI to capture your every feature and move for a perfect replication.

This synchronization process is necessary before you proceed to choose another presentation mode.
Step4

Start Recording with AI avatar.

Follow the "Calibration Mode" set of instructions so that your motions will be properly tracked and affected. Now, click the "Demo & Record" button at the top-right corner of the page before you begin your presentation.
---
The Media.io AI Avatar maker is an online tool that instantly converts your uploaded photos to AI avatars. With this free tool, all you get is high-quality results, as AI technology is modern.
Media.io works well on every operating system and mobile device, such as iOS, Windows OS, Android, etc. All you need is a browser and a good internet connection, and you can log on to the site to create amazing AI avatars from photos.
In addition, Media.io deletes all your online data from its servers 24 hours after you log out of the website. It ensures that your online traffic is protected from hackers and that you enjoy optimal privacy.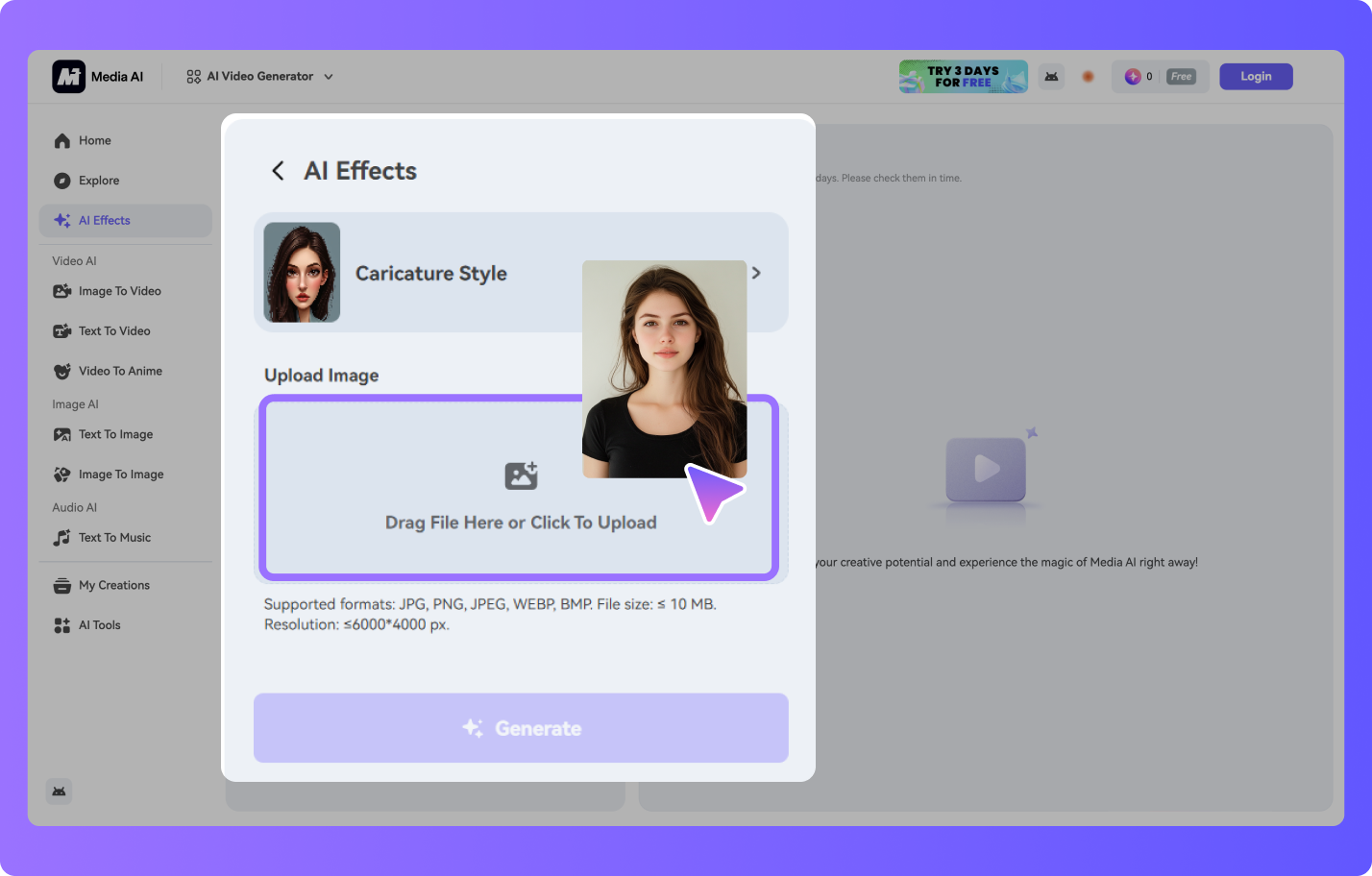 ---
Virbo is more than just a video generator; it's a versatile creative companion. You can select from a diverse range of over a hundred virtual avatars to enhance the appeal of your videos. These avatars possess exquisite appearances and come with authentic voices and lively expressions, adding a human touch to your videos. Furthermore, it offers you various choices to meet your different device requirements. Whether you're working on a Windows desktop, using online cloud services, or employing a mobile application, Virbo effortlessly accommodates your working preferences. It also offers a variety of templates, making it easy for you to find the right one whether you need to create marketing videos, educational content, or other types of videos.
Its video translation feature is convenient if you want to expand your audience. It can translate your videos into multiple languages, ensuring that your message reaches a global audience without additional translation work.
---
Picsart is one of the most widely known AI Avatar creator apps in 2023. It brings your personalized AI-based avatar version to life in seconds.
Picsart works on Android and iOS devices, so your OS should not be a barrier between you and another world of fantasy. Furthermore, you do not need to have professional experience before you can use Picsart. All you need to do is upload several pictures and allow the state-of-art AI maker to do its magic. Create unique profile pictures, business cards, and ads that appeal to viewers and customers using Picsart AI-based Avatar tech, and you will be amazed at the results.
---
As a beginner, Fotor is a highly recommended tool for you to use in creating your ideal AI avatar online. That is because it is simple to navigate and works quickly. Furthermore, you can upload pictures or use your imagination to design an avatar on Fotor. For example, if you upload a photo to the interface, you will receive three different photo effects that you will select from.
It works on Mac and Windows OS and has a mobile app for phone users. It can generate random avatars from text and turn your pictures into cartoon avatars. Just describe the image you want to create, its style, color, and other settings, and Fotor will produce what you describe.
---
Artflow is another amazing AI Avatar generator that lets you use original characters to create your own avatar stories. It is a unique tool that helps you become an animated movie producer. You get to design the characters, voices, scenes, and storyline using the AI-based technology and Machine Learning algorithms of Artflow to make a masterpiece avatar story. And you may think that sounds too complicated for a beginner like you, but not to worry, this app is easy to use for every level of design knowledge.
You can download Artflow on your Windows PC, Mac system, and mobile devices to enjoy a fun time creating your unique AI Avatar.
---
FacePlay AI creator is a must-have for every online content creator out there. It converts any photo you upload into different AI avatars based on global characters. There are many styles, including cartoon style, sports, sci-fi, art painting, war-damaged style, cyberpunk, etc. It also comes with many different video templates that you can adopt.
If you wish to download the AI avatar you have created on this app, do not worry about the photo or video resolution, as FacePlay supports high resolution. You can run FacePlay on your Mac OS, Windows 7 and up computer, or download the mobile app version on your Android or iPhone.
---
It is an Android AI Avatar creator app that lets you create amazing artwork from photos and text. You can replicate your pictures in artsy styles like Picasso, Van Gogh, Monet, and other filters. You can also play with creative ideas by turning your texts into images within seconds of description.
If you are an Android 6.0 and above user, you should download this app and try out your creative cartoon designing skills. Free, but it contains in-app purchases for premium features.
---
Prisma Lensa is an AI avatar creator for Android and iPhone users on Google PlayStore and App store. It takes your photo editing skills to the next level, giving you amazing results that your customers and followers will love.
It has the "Magic Correction" feature that elevates your facial appearance with one touch. Other special effects and unique filters can turn a bland photo into a unique AI avatar.
---
Dyvo is an easy AI creator app ideal for Android and iPhone users. It makes over a hundred AI avatars available as a base for your photos and profile pictures. There are also over 50 realistic cartoons, art styles, and anime available for you to use as a base to create AI avatars for Facebook, Instagram, Twitter, etc.
You can also get inspired by the before and after photos of other users on the platform to create your version of an AI avatar.
---
Synthesia is a video-based platform for creating AI avatar videos for business presentations and online broadcasts, depicting hypothetical scenarios for a better understanding by your audience. It is a web-based platform that implies that with a browser-enabled device and internet connection, nothing stops you from generating AI Avatar videos for your online presence.
Other features of Synthesia include a media library, video screen recorder, templates, and so much more. Create your custom AI avatar using the default 85 and more AI avatars. In addition, you can add professional-sounding voiceovers to your videos to give the complete animation studio effect.
---
The AI Profile Pic Maker has been specifically designed to help creators like yourself make beautiful artistic pictures that can be used as profile pictures. It uses custom Stable Diffusion technology to achieve great feats in making AI avatars.
When you upload a photo from at least ten different angles, this AI avatar creator uses the data to generate over a hundred different unique studio standard pictures within minutes. You will be amazed at how accurate this app is in replicating a cooler version of you. This AI avatar maker supports photo formats like JPG, PNG, HEIC, and JPEG. It works on any good browser; the mobile app version is coming soon.
---
Starrytars is a simple tool with which you can create your cool cartoon online personality in the form of AI avatars. First, create over a hundred AI avatars using this site's easy navigation panel. Then, you can upload up to twenty pictures in different settings and lights and convert them to any of the hundred AI-based avatars that are unique to you.
The Starrytars app can be downloaded on App Store and Google PlayStore for iPhone and Android users. You can use the AI avatar you create as your social media profile picture, on stickers, your website logo, and on your business cards to give them a more interesting outlook.
Best AI Avatar Generators Comparison
| | | | | |
| --- | --- | --- | --- | --- |
| Product | System | Price | Free Usage | Key Features |
| DemoCreator | win/mac | $45/Year | | Make presentations in AI Avatar mode. |
| Media.io | online | Free | | It's completely free! |
| Starryai | online/mobile app | $15.99/month | | Nice AI art generator with cross-platform availability. |
| Picsart | mobile app | $7.50 per month | | All-in-one photo editor and AI avatar generator. |
| Fotor | online | $10.99/month | | Convenient and easy to use. |
| Artflow | online | $6 | | Powerful AI avatar and art generator. |
| FacePlay | mobile app | $57.99/Year | | Easily generate face swap videos. |
| GoArt | mobile app | $29.99/Year | | Combine with photo cartoonizer and AI art generator. |
| Prisma | mobile app | $29/month | | Generate highly natural AI effects. |
| Dyvo | mobile app | starts from $2.99 | | Sign up to get 100 free images. |
| Synthesia | online | $22.50/month | | Make realistic AI avatar videos. |
| AI Profile Pic Maker | online | $ 8.99/month | | Various styles and scenes. |
Conclusion
Now that you have a list of the best AI avatar generators online take your designing skills to another level and create unique animated photos and videos. That will boost your online personality, open you to more business opportunities, and attract new clients to your page. Begin your journey here using the free DemoCreator's AI Avatar Maker.